Originally Published: December 02, 2020
We're very excited to announce our new cancellation notice tracking!
Many people have asked us to offer cancellation notice tracking on Assured Certificates, but until recently we were a little reluctant to add it to the platform because there are so many variations on where and how cancellation notice can be written. With the most recent updates we made to our software, we are finally able to offer the flexible cancellation wording tracking our customers need.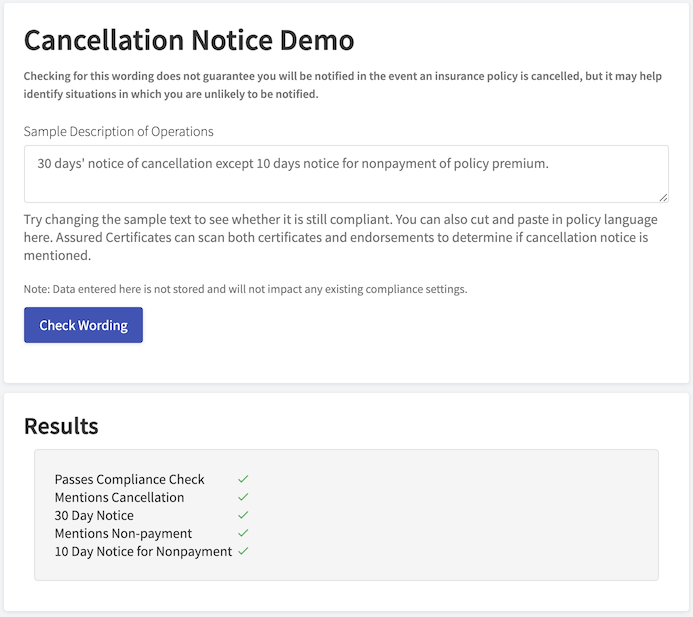 Cancellation Notice Calculator
Since there are so many variations on cancellation wording, we built a demo app to help customers determine whether our cancellation wording detection will work with their specific certificates, policies or endorsements. You can access the demo at https://app.assuredcertificates.com/cancellation_wording, or from the resources page of this website.
Background
Notice of cancellation is required by many contracts. As I wrote previously a certificate by itself is only good on the day it's received. When an insurance company cancels your insurance for any reason, they are required to notify you of the cancellation before it happens (usually 30 days before cancellation, with an exception of 10 days notice for nonpayment). Unfortunately, when you request a certificate of insurance, you do not automatically get opted in to cancellation notice for the other businesses insurance.
How do I check if I will get notified if a policy is cancelled?
You can't always be sure, but it's possible to have an endorsement (extra page or pages) on your certificate of insurance that specifies your cancellation notice. Ideally, the insurance company providing the insurance will have a standard endorsement for this and will accept your contact information in case they need to provide you notice.
In other cases the insurance brokerage will include a letter stating that they will provide the cancellation notice to you in the event it is needed. Many brokerages will not offer this because they do not want to assume liability for failing to provide notice to a business, especially when that business is a third party and not their client.
Most commonly, language will be written on the certificate in the description of operations indicating "30 days notice of cancellation except 10 days for non-payment" and some consider this to be sufficient. Others dislike this method because the ACORD 25 states that it "CONFERS NO RIGHTS UPON THE CERTIFICATE HOLDER" and believe cancellation notice in the description of operation doesn't actually hold anyone responsible for delivering the cancellation notice.
If you are ever in doubt of a policy still being in effect, you can always call the agency listed in the producer section of the COI to verify the policy is still in effect, just have the policy number ready as they will likely need it to look up the insurance in question.
How we're handling it
Since there are many conflicting opinions about how to handle notice of cancellation on certificates of insurance, we've made our solution as flexible as possible. Our software will attempt to parse every page of any certificate PDF uploaded on our platform and identify when appropriate cancellation language appears. We've decided to let our customers decide where the cancellation wording needs to be written in order to meet their requirements.
We are offering four different methods for tracking cancellation wording.
Our options are explained below:
Description: Only the description of operations will be checked
Endorsement: Only the endorsements will be checked
Either Description or Endorsement: When cancellation notice appears anywhere on the certificate, it will be considered compliant. This allows for the most flexibility and is easiest to enforce.
Both Description and Endorsement: The cancellation notice must appear in both the description of operations and on a subsequent page in the document. This is the safest option, but will also be the most difficult to comply with.
This automated process works well, but it is not guaranteed to catch everything. If you have documents that are lower quality and you require cancellation wording in both the description and endorsement you may need hands-on attention to verify you actually will be notified in the event of policy cancellation. The most thorough option is to utilize our professional services to have your documents reviewed by a licensed insurance agent.